Is Spanish Moss harmful to trees?
Welcome to Natural Wonders, where lately I've been on a tree kick and it looks like that trend will continue with the next issue because yesterday I visited some GINORMOUS trees and now I have all sorts of questions about old growth forests. Look for more on that soon… Until then, some tree-adjacent foliage facts for today!
Last week I traveled to Florida with some friends for a long bike ride supporting the San Felasco Hammock Preserve state park. It's a beautiful area, with miles of hiking/biking trails, enormous live oaks arching over the trails, and more rolling elevation than you'd expect for Florida. I also saw a good example of a possible pointer tree, which I've written about before: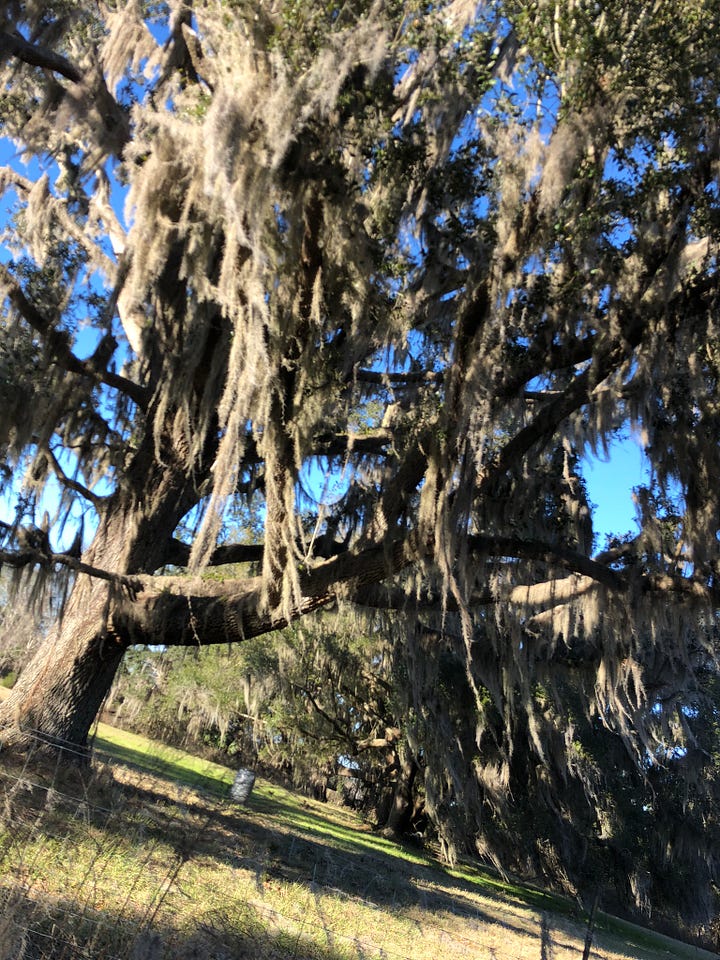 There was also lots of Spanish Moss draped from the trees, sometimes in very large amounts, and even covering the ground, which one rider discovered when she had to disentangle clumps of moss from her front wheel hub. It was everywhere, and I began to wonder if trees covered in enormous clumps of the stuff were in danger, similar to what happens with mistletoe. Is the Spanish Moss suffocating the tree or stealing nutrients from it?
Can Spanish Moss kill trees?
Spanish Moss is neither Spanish nor a moss. It's considered an epiphyte (rather than a parasite), meaning it clings to trees and other objects merely as a structural base, but it gets its nutrients from the air.
Strands of Spanish moss can stretch as long as 20 feet (6 meters) as it hangs from branches. But I was surprised to find out that each individual plant is at most 6 centimeters long – the draping strands are simply made up of collections of these smaller plants gamely clinging to each other.
To make it even more impressive, Spanish Moss doesn't have roots. It grips tree branches and bark using tiny scales along its long, thin "leaves." These scales are also key to how it survives:
These scales are called trichomes and are what make Spanish Moss and other air plants appear silver in color. The "fuzzier" the plant looks, the more trichomes it has and the more it can tolerate a drier climate. When it rains, the dry scales collect raindrops (or even fog and mist), then fold onto the main stem to allow the water to be absorbed. Spanish Moss tends to prefer live oaks and bald cypress trees, partially because as rainwater drips down the trees' leaves and bark, it carries minerals (calcium, phosphorus, potassium) the Moss needs to survive.
In other words, it's not harming the tree (or fence or wire or metal pole) it's clinging to. The only problem Spanish Moss might cause is when it becomes so thick it blocks sunlight from reaching a tree's leaves and so weakens the Oak's photosynthetic process.
Spanish Moss, like most plants, makes its own food using photosynthesis. But instead of exchanging CO2 for oxygen all day long, it basically uses chlorophyll to photosynthesize while simultaneously holding its breath during the day. It only opens its stomata, the tiny mouths along its leaves, to exchange gases at night. This allows it to conserve water in especially arid conditions. And since it doesn't have roots to collect water from deep in the soil, it has to be careful about not losing more water than it can afford to.
Lots of animals use Spanish Moss as a habitat, including the daintily-named Pelegrina Tillandsiae, a type of jumping spider that lives only in its strands:
It's also rumored that chiggers LOVE Spanish Moss and if you know what's good for you and the bendy parts of your body, you will avoid touching it at all costs. However, a little research shows that chiggers only seem to be found on Spanish Moss that's fallen on the ground – the tangles hanging from trees are fine, and researchers couldn't find a single chigger on 3,297 separate clumps they examined.
Spanish Moss had been used as mattress filling and for upholstery in cars and furniture up until the 1970s, when synthetic fibers came along and made it obsolete. The tough outer bark was stripped off and used as mulch, while the softer inner fibers were used as filler that was known for keeping mattress-sleepers cool and dry. It was also apparently woven into rugs, lids for cooking pots, rope and string, and even voodoo doll stuffing. Here's a horse blanket that I can only hope is more comfortable than it sounds:
So, Spanish Moss turns out not to be harmful to its hosts, but is instead a tough plant made up of lots of tiny little plants clinging to each other and holding their breath all day. There's a metaphor in there somewhere, but I don't have the energy to find it…
Weird Nature
---
Detritus:
If you liked this issue, please click the "like" button below - it makes me happy and also raises the profile of this newsletter!